How to restore a flat roof covered with a bituminous leaking roofing?
Repairing leaks and water ingress easily? RD-Elastodeck is an elastomeric coating designed to waterproof aging and/or leaking bituminous roofing.

This liquid waterproofing system is safe and easy to apply, can be used on almost any type of roof and provides a high quality, flexible and elastic membrane without seams or joints.
The products that you need
Restore a flat roof on video
Préparation de la surface
Many flat roofs around the world are originally protected with bitumen-based membranes, often referred to as roofing. An efficient and inexpensive method of covering warehouses, factories, houses, etc. They are subject to extreme conditions and many stresses due to their permanent exposure to outdoor weather conditions. The membranes expand and contract continuously under the influence of heat and cold; they must not only resist rain but also hail, snow, sunlight, erosion, etc. The conditions are terrible, no matter where you are in the world!
Like any material, the membrane wears out and eventually cracks and tears, allowing water to pass through.
This is the start of many problems: leaks appear and other damages, which will increase if nothing is done. The consequences of doing nothing are costly: damaged stocks and production tools, damaged furniture, areas that can no longer be occupied, interruption of production, significant economic losses, mould, stains on ceilings, etc.
Repairing and waterproofing only the areas where you think the leak might be coming from is not an effective solution because water seeps and can come from somewhere else. And removing an old bituminous membrane and installing a new one is a tedious and expensive job.
RD-Elastodeck & RD-Roof Fleece
RD-Elastodeck is an excellent solution for the renovation of this kind of roofs. A safe and easy-to-apply, one-component water-based coating that will reduce the risk of further leaks in the future. Applied to a roof, you obtain an elastic protective membrane similar in appearance to rubber, which will solve the problems of water infiltration. Its estimated service life is over 15 years!
Thanks to its great flexibility and permanent elasticity, RD-Elastodeck permanently adheres to the surface and follows the expansion movements of the roof.
Reinforced with RD-Roof Fleece, the new membrane will be durable and highly resistant to different weather conditions including UV rays, rain, hail, snow, hot, cold, etc.
Recommended quantity and thickness
This system is successfully used in many regions around the world: North America, Europe and Asia. The quantities to be applied, and therefore the final thickness, depend on the location of the project and the climate.
Dry climate: min. 1,5 kg/m² RD-Elastodeck
Humid climate: min. 2 kg/m² RD-Elastodeck
Risk of stagnant water or snow for several days: min. 3 kg/m²
This quantity may only be applied locally to certain parts of the roof where these risks exist.
The quantity of fleece to be used is simply calculated on the basis of the number of m² to be treated, to which must be added the edges on which it is brought up by a minimum of 10 cm / 4 inches.
This system offers multiple advantages for the contractor and the applicator:
- single component product, user friendly
- no pot life
- very low VOC (Volatile Organic Compounds) levels
- quick and easy to use solution
- fast drying time and reduced downtime
- extensively tested worldwide
- wide range of colours and very good durability
Our water-based products prevent:
-bringing hazardous products to the site while eliminating the risk of fire or explosion
- nuisances in the vicinity with annoying odours during and after application
- emissions of harmful substances
- losses during and after application
Weather
As with any outdoor project, try to avoid starting a job in rainy weather. A minimum of 10°C / 50°F and no rain expected during and immediately after application are required to apply products comfortably.From 15°C / 59°F, working conditions are comfortable and allow higher productivity. If the project is located in a very hot area with very intense sunshine during application, you should avoid applying the system when the sun is most intense and prefer working early in the morning or late afternoon.
If you are working in humid climates, and especially if it is cold after sunset such as in the fall or spring, be sure to finish the job a few hours before dark. Otherwise, you risk having condensation covering the fresh paint and preventing it from drying. If you are working at dawn, beware of condensation on the surface, avoid it!
Advice
Avoid carrying out waterproofing work in autumn, winter or spring when the weather conditions are sometimes too uncertain.
RD-Elastodeck does not have a cover window. In other words, if the work should be interrupted due to a sudden change in the weather, it can be resumed later without any problem!
Surface preparation
The surface must always be clean, dry, degreased and free of any contaminant.
The most popular and fastest way to do this is to clean the surface using a pressure washer powered at 220 bar / 3200 psi and equipped with a rotating nozzle with a zero degree angle. This method will remove dirt, possible loose paint and other loose elements from the surface.
Any remaining oils or fats should be removed with soap. Moss and mildew can be removed with suitable cleaners. Consider using biodegradable solutions that are easy to find and very effective.
At the end, rinse and brush with clean water. The surface must be completely dry before applying the waterproofing system.
Presence of an existing coating
It is essential to check whether the coating still has sufficient adhesion!
If there are blisters anywhere, pierce and cut them out, then remove the loose coating. Never paint on a coating that does not adhere well!
Edges and ledges
Also check the edges and connections with walls, chimneys or any other equipment that can be found on a roof. These are places subject to water infiltration faster than flat surfaces. RD-Elastodeck can be used on most types of mineral surfaces and is easy to use with the backing mesh RD-Roof Fleece to seal these more fragile areas.
Drains
Check that drains are not blocked. This is often a cause of water stagnation and can damage the waterproofing of a roof more quickly.
Equipment
It is preferable to apply RD-Elastodeck with a roller or with an airless device. You can also brush it on hard to reach areas.
Avoid spraying in windy weather.
Brush: large common brush for water-based coatings
Roller: polyamide 14 mm / ½ inch.
Airless spraying: minimal pressure 180 bars / 2600 psi - variating nozzle between 0,017 and 0,023 inch.
Preparation of the RD-Elastodeck
RD-Elastodeck is ready to use, stir it mechanically for several minutes and optionally dilute up to 3-5% with water if working in very hot weather to slightly delay drying.
Installation of the reinforcement mesh on the edges and ledges
Start with the specific areas: edges of chimneys, ventilation, walls, drains, etc... before tackling the flat surface as these are sensitive areas that deserve a lot of attention. The use of the 20 cm wide RD-Roof Fleece is generally recommended for its ease of handling.
Cut and apply the mesh half on the roof and half on the object so that there is a minimum of 10 cm / 4 inches of mesh on each surface. Then apply a brush coat of RD-Elastodeck above and through so that the coating comes into contact with the surface.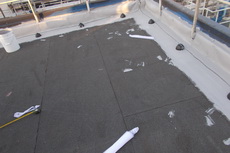 Laying the reinforcing fleece on the edges and ledges
The second step is to lay down the RD-Roof Fleece reinforcement mesh to the flat surface of the roof. RD-Roof Fleece is available in different widths and can be cut to size depending on the situation. Available widths : 120 cm / 47 inch or 60 cm / 24 inch. Cut to the appropriate length. This mesh is perforated and very resistant.
Unroll RD-Roof Fleece on the flat roof surface and distribute it evenly. The connections between each mesh must have an overlap of at least 5 cm or 2 inches.
Then apply with a roller or brush a first coat of RD-Elastodeck, which will stick by itself to the substrate.
Let dry 4 to 6 hours before applying the second coat. This first step takes the most time.
The application
After the application of RD-Elastodeck with the mesh, the application of the second coat will generally be carried out with an airless device.
The use of an airless device allows rapid application of a thick film with a uniform surface. Depending on the surface to be waterproofed, this can save a considerable amount of time.
RD-Elastodeck does not cause much overspray and is dry fall.
If further coats are applied with a roller, a minimum of two coats will usually be required to achieve the prescribed thickness.
The application of successive layers of RD-Elastodeck avoids having pinholes.
The waiting time between coats is between 4 and 6 hours depending on the thickness and the ambient temperature.
The final thickness is important and must be in accordance with our recommendations as it will be your guarantee for the long term performance of the RD-Elastodeck waterproofing system. It's the total amount of material applied that counts, not the number of coats as long as you have a minimum of two.
Advice
Remember to measure the wet thickness during application, this will help you determine the future film thickness when it is dry.
A good advice on the color
RD-Elastodeck is available in a wide variety of colors. We recommend using a different color per coat to perfectly distinguish one layer from another and be sure not to forget certain spots.
Example: 1st coat in RAL 3009 (oxid red) - 2nd coat in RAL 7004 (signal grey) - 3rd coat in RAL 7035 (light grey)
Roofs with a lot of stagnant water
If, despite regular maintenance of the downpipes, there is stagnant water that persists for several days, this is probably due to the lack of slope in the roof. These are more vulnerable areas where particular attention should be paid to applying the recommended amount of RD-Elastodeck (3 kg/m²).
Finishing options
RD-Elastodeck is a waterproofing system that does not require any topcoat. It is possible to walk on it occasionally (preferably with flat-soled shoes) during maintenance work, but be careful not to pierce or tear the membrane with sharp or heavy tools or objects.
But there are cases where a topcoat might prove useful or desirable like:
- In case of regular traffic on the roof, consult our finishing products for floors RD-Hydrograff HP and RD-Monofloor PU.
- If you want to save energy with a special finishing coat reflecting infrared rays and reducing heat transfer inside the building, consult the RD-Sunguard sheet
- If there is a risk of contamination from chimneys on the roof or nearby, use RD-Hydrograff HP Clear.
VERS. S8-230831